Typical Analysis Of Atlantic Wakame Seaweed – Alaria Esculenta
The complex of vitamins and minerals all together make it a great ingredient for starting a healthy diet.
The taste of this seaweed is very acceptable, being exempt of any fishy flavour When cooked in sauces or soups it will be very difficult to distinguish this seaweed from any other green vegetable endlist.
Protein: 9-20%
Fat: 1-2%
Carbohydrates: 46-51%
Vitamin C: 100-500 ppm
Carothen: 4-5 ppm
Retinol: 0.7-0.8 ppm
Vitamin B2: 0.3-1 ppm
Vitamin B3: 5 ppm
Vitamin B6: 0.1 ppm
Vitamin B12: <5 ppb
Calcium: 11,670-12,900 ppm
Iodine: 165-275 ppb
Iron: 50-126 ppm
Magnesium: 8.960 ppm
Manganese: <1-14 ppm
Sodium: 4-6%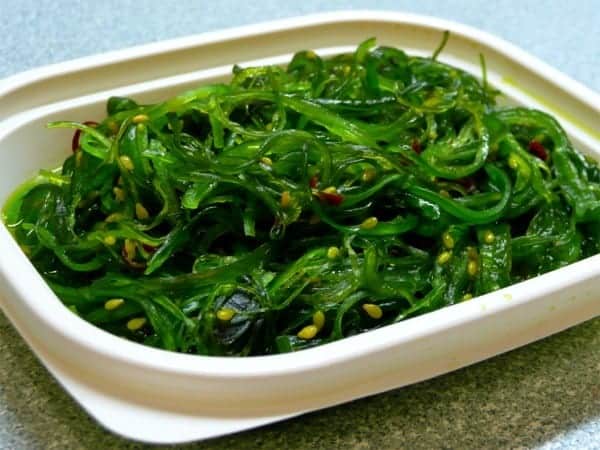 Wakame (Undaria pinnatifida) is a species of kelp native to cold, temperate coasts of the northwest Pacific Ocean. As an edible seaweed, it has a subtly sweet, but distinctive and strong flavour and texture. It is most often served in soups and salads.
Wakame has long  been collected for food in East Asia,and sea farmers in Japan have cultivated wakame since the eighth century
Studies conducted at Hokkaido University have found that a compound in wakame known as fucoxanthin can help burn fatty tissue.Studies in mice have shown that fucoxanthin induces expression of the fat-burning protein UCP1 that accumulates in fat tissue around the internal organs. Expression of UCP1 protein was significantly increased in mice fed fucoxanthin. Wakame is also used in topical beauty treatments. See also Fucoidan.
Wakame is a rich source of eicosapentaenoic acid, an omega-3 fatty acid. At over 400 mg/(100 kcal) or almost 1 mg/kJ, it has one of the higher nutrient-to-energy ratios for this nutrient, and among the very highest for a vegetarian source. A typical 10–20 g (1–2 tablespoon) serving of wakame contains roughly 16 to 31 kJ (3.75 to 7.5 kcal) and provides 15–30 mg of omega-3 fatty acids. Wakame also has high levels of sodium, calcium, iodine, thiamine and niacin.